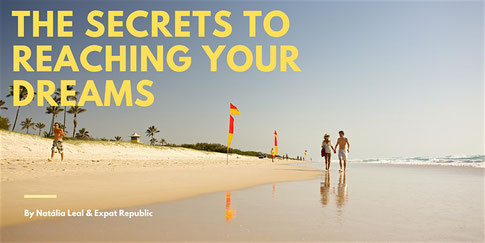 The key to happiness, fulfillment and reaching your dreams!
2020 is bringing a short series of conferences across the Netherlands. The first one is already confirmed for Amsterdam, in March, co-organised with Expat Republic. Utrecht should follow in April, and others are still being considered. Keep an eye on this page to know about the latest news regarding these events. 
About this Event
What are your deepest aspirations?
Do you already have that job or position you have been working so hard for? The salary you deserve? The house of your dreams? The perfect family? That car or those shoes you simply love and must-have? Do you feel completely happy and fulfilled? If not, don't stress; You are just like most of us. We are all still trying to get there!
What we're told about happiness and fulfillment growing up, and why it's wrong.
As we grew up our parents and teachers often told us "You can be anything you want"; but they also encouraged us to work hard at our jobs in order to be successful… and then – implicit – was the message that we'd finally be happy. They encouraged us to 'climb the career ladder'. Many of us have even moved to a different country, in search of that job, that success, that sense of fulfillment and happiness… They didn't mean it, but our parents have basically lied to us. Don't blame them, they were lied to as well. The recipe for the happiness they received from their own parents and teachers was not a perfect one either, and clearly, it no longer fits with today's fast-paced, digital world.
Are you ready to reach your dreams or does it scare you?
If you're curious and eager to learn more, join us for our finding your dreams conference.
The good news is that, over the past few decades, the science of happiness and fulfillment – from positive psychology to neurosciences and behavioral economics – have uncovered significant new findings on what drives us (and stops us), what makes us happy and what can help our dreams come true. The secrets – for the most part – are already out there, and we'll explore quite a few during this conference.
If you're curious and eager to learn more, join us for about an hour of reflection on and tips to achieving your dreams in today's world. Take note and get ready to get your hands dirty. Find out what are your next steps could be.
Finding happiness and reaching your dreams requires dedication, hard work and doing your 'homework'. We'll show you what you need to do. Are you ready?
When: Saturday, March 21, 2020
Where: House of Watt | 73 James Wattstraat | Amsterdam
Time: 14:00 – 16:00
FREE Registration: https://www.eventbrite.com/e/the-secrets-to-reaching-your-dreams-tickets-87472164599
When: Thursday, May 14, 2020
Where: Restaurant Seven  (upstairs)| 7 Mariaplaats | 3511 LH Utrecht
Time: 19:00 – 21:00
FREE Registration: https://www.eventbrite.com/e/the-secrets-to-reaching-your-dreams-tickets-92909553977