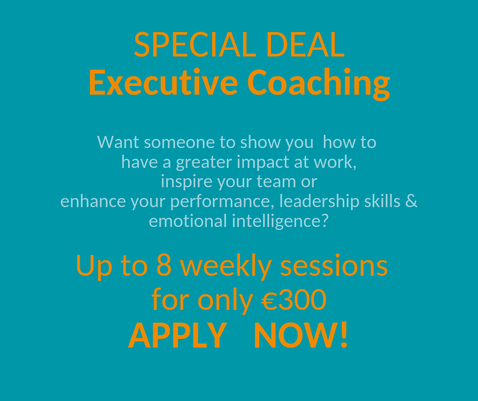 Do you want to be a great leader?
To improve performance and inspire your team?
Are you able to set a clear vision and strategy at work?
Are you about to/have you recently been promoted? 
I am looking for you!
As I extend my coaching services into a new domain, I am launching a special deal for executive coaching sessions.
I am offering 2-months of executive coaching sessions to executives, managers or board members who would like some support in addressing their current work challenges and are committed to the coaching process for only €150/month. I will be bringing all my tools, knowledge and experience as former WFTO Chief Executive and current owner and manager of my own company to help you.
I can show you how to reach your goals so you can make a greater impact at work, inspire your team and enhance your performance, leadership skills and emotional intelligence!
To apply, please fill in the Application Form below and tell me why executive coaching would be ideal for you.
If there is a suitable application, one place will be offered preferentially to someone working for a network/association, social enterprise or Fair Trade business.
Conditions:
- Please note that Executive Coaching is not Business Consultancy: it focuses on improving personal effectiveness in an organisational setting, and not on providing business advice.
- Applications are open until enough good candidates have been found, and can be submitted using the Application Form below.  The first selection round will take place no later than 1 August 2019. Winners will be directly contacted by email.
-  There will be a preliminary free talk before the actual sessions begin, where winners are free to decide to continue or not.
- Sessions will be scheduled during normal working hours in the Central European Time (CET) zone. 
- All promotional sessions can start from 1 August and should take place by 30 November 2019 the latest. This period includes 2 weeks of holidays when no coaching session will be possible.
- Sessions can take place virtually or in-person as possible. There will be a maximum of 8 sessions, from 1 to 1,5 hour duration, scheduled on average a minimum of 1 week apart, for a maximum of 2 months after the first session. The winners are responsible for keeping to the agreed schedule; extra compensation sessions will not be possible.
- Payment of the entire 2-month programme, in a total of €300, is required in advance before the sessions start. Extra costs may apply if these are to occur (ex. travel, specific tools agreed by both, etc.); these will be mutually agreed in advance. 
- The price quoted already includes VAT for individuals; for companies, VAT is excluded and will be added as necessary. 
- Participation in feedback and surveys sent during and shortly after these coaching sessions is required.
- Writing of a testimonial likely to be shared online (ideally accompanied by a photo) is required. 
- Natália Leal's other Terms and Conditions apply. A copy will be sent to those selected.
- Data Privacy Policy and Website Terms and Conditions also apply.